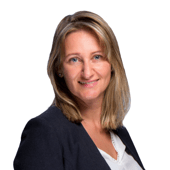 Melinda Pintér
Director – Transition
Melinda is the Director in charge of Transition at KGSH, responsible for ensuring a seamless Client Onboarding experience for clients to the KPMG Global Delivery Centers. She leads a team of 45 professionals, optimizing our strategies to deliver a well structured onboarding process for the Clients and internal stakeholders alike.
Melinda has 20 years' experience in the transformation and automation of processes, and  in building and leading operational teams. She specializes in the management and delivery of finance and accounting related transition, transformation and digital projects.
Melinda started her career at Arthur Andersen and then Ernst and Young, both in auditing. She later joined General Electric and Genpact where she was managing different finance and accounting teams, up to 130 FTEs for GE and non GE businesses. In her last role before KGSH, Melinda led transformation projects for 6 GE businesses globally, involving simplification for ~400 FTEs, by implementing automation, RPA, QPA and green belt projects. These projects included process redesigning for Operational Controllership and accounting tasks.